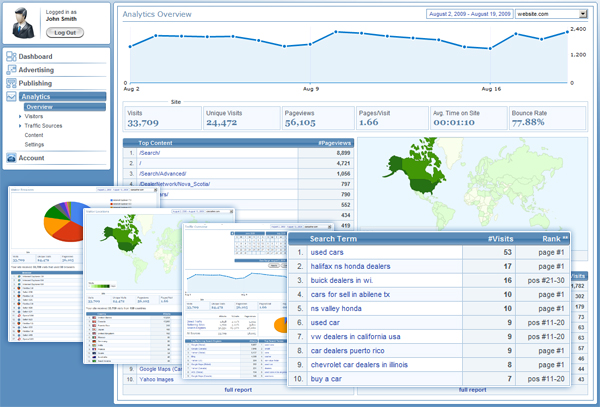 Some time ago I got an eMail from Alex, founder and coder of expo-MAX, offering his analytics system for free to me. Well, as with all free offers I have been sceptical and wondered if this is any good. But the way I was offered (Alex is a real cool and nice guy) and the first glances onto the information provided on the page made me add it ( thinking I could throw off the stats system anytime if it wouldn't prove useful ). Guess what. We're still running the analytics software on our domains. Why? Because it's simply good, thorough and a good alternative to Google Analytics. It's even easier to find the info you need, track down sessions for every single user and much more.
Yet expo-MAX not only offers statistical systems, no, but rather a fully fledged advertising system, a search engine which really drives traffic to one's page and other nifty tools.
Got interested? Here's a short excerpt of what they have on their page:
Web Traffic Analysis
expo-MAX Real Analytics is a free, easy-to-use enterprise class solution for internet marketing analysis, including search engine optimization and pay-for-performance campaigns. An intuitive user interface of Real Analytics allows you to quickly go over all important business metrics to give you the tools needed to maximize the effectiveness of your marketing efforts.
expo-MAX Real Analytics was engineered to be used by internet marketing and search engine optimization professionals as well as bloggers and online hobbyinsts alike. It has been thoroughly tested with all kinds of websites, from small personal blogs all the way up to authority sites with millions of pageviews per day.
Track your website's marketing performance
Real-time statistical breakdown and reports
In-depth search engine optimization analysis
Specialty search engine reporting (e.g. Images, Maps)
Rank reports for every keyword in every search engine
Landing page search engine traffic analysis
Daily or hourly reports, busy times analyzer
Integrated cross-metric report builder
Regional search engine analysis
Easy to use user navigation system
Extensive documentation and help section
People, it's really time to check this out. It proves to be a valuable source not only for traffic building but also for getting insights into your domain and client behaviour.
Quick Fact: expo-MAX Real Analytics has delivered detailed analysis for 8,242,571 visits and 26,510,963 page views for our users in the last 30 days.